2020
2020 SRAPPA Conference
2020 has been a year like no other year and the SRAPPA conference adjusted to meet the challenge.  Our first virtual conference had a mix of sessions streamed live and a pre-recorded presentations as well.  Our guest speakers Major General Brian Bishop and Richard Flint challenged us to work together as a team and  to let go of the past to move forward in an ever changing world.  A variety of other sessions are available to those who signed up for the free event and can be accessed until October 2021.  While we are all looking forward to being able to meet in person in Alabama in 2021, we are grateful that timely topics are available for us during this challenging time.
2019
2019 SRAPPA Conference
Northern Kentucky University served as host for the 68th annual SRAPPA Conference in the historic city of Covington, Kentucky.   Located along the Ohio River across from Cincinnati, Covington provided the 318 attendees stunning views and unique tours.  Twenty-seven breakout sessions focused on the four main areas of sustainability, technology, leadership and communication, and facilities planning and construction.
This year's conference theme was "Riding On Strengths and Jumping Barriers."  Attendees visited the beautiful NKU campus and facilities, participated in the golf tournament at the Highland Country Club, toured the New Riff Distillery, Rumpke Recycling, and Ark Encounter.  Spouses and guests of the attendees were treated to a special tour of the Cathedral Basilica.
SRAPPA welcomed 120 business partners and enjoyed 51 booths in the Northern Kentucky
Convention Center.  The region is grateful for each of our business partners.  Without the help of our business partners these conferences would not be possible.
The highlight of this year's conference was a riverboat cruise aboard The River Queen.  Guests enjoyed spectacular panoramic views along the Ohio River of downtown Cincinnati and northern Kentucky.
The Conference was capped off Tuesday evening with the annual Awards Banquet and Board Installation ceremony.  Guests were treated by the entertainment of comedian and professional pickpocket Bob Arno who taught the audience the Art of the Steal!  Outgoing SRAPPA President Tom Jones spoke about the success the region has experienced in 2019 and its vision moving forward.  He presented the Service Appreciation award to outgoing Senior APPA Representative Dave Maharrey for his dedicated service to the Board.  VP for Education Andy Maddox received the President's Award.
Ruthann Manlet, APPA President, installed the new 2019-2020 SRAPPA Board.
Back by popular demand, motivational and leadership speaker Richard Flint spoke during the closing session Wednesday morning.  President Bill Moulton and his team put on an informative and excellent conference and will continue to move the region forward in the coming year.  We look forward to the 2020 conference in Tampa, Florida September 24-29 and look forward to seeing you there.
2018
2018 Conference
More than 196 attendees representing 65 institutions across the Southeastern region had the opportunity to attend 41 educational sessions at the 2018 SRAPPA Conference, held October 6-10, 2018 in beautiful downtown Greenville, South Carolina.  this was SRAPPA's 67th annual conference.  it was a memorable one, jointly hosted by Clemson University, Furman University, and Wofford College.
The conference theme was "Transforming Leaders, Bridging Generations," and attendees were treated to a tour of the Clemson University campus and visited some truly spectacular facilities.  The host committee delivered an exceptional conference bringing many great programs and venues for the attendees and Business Partners.  Every day of the conference was filled with opportunities to connect with, engage with, and learn from one another.
The conference included 84 vendor booths with a total of 94 Business Partner sponsors.  SRAPPA is grateful for every one of of Business Partners without whom this event would not have been possible.
Motivational and leadership speaker Richard Flint presented a series of engaging topics, including Hiring the Right People for Your Business; Six Steps to Embracing Change; Breaking the Procrastination Habit; Behavior Never Lies; Creating a Winning Attitude; From Great to Exceptional Customer Service; and When You Care, They Know.
The conference was capped off on Tuesday evening at the Awards Banquet and Board
installation event.  Outgoing SRAPPA President David Smith recapped the region's successful year and recognized outgoing Board members: Jodie Sweat, Al Hill, Casey Charepoo, and Vibha Buckingham.  David also presented Jodie Sweat with the President's Award.  Don Guckert, APPA President, installed the new 2018-2019 SRAPPA Board.
2017
2017 Conference
More than 470 participants representing had the opportunity to attend 36 educational sessions at this year's 2017 SRAPPA Conference October 26 – 28, 2017 in Charlotte, NC. This was SRAPPA's 66th annual conference and it was a memorable one hosted by University of North Carolina – Charlotte!
The conference theme was "Building Excellence in Facilities" and we were treated to a tour of the UNC – Charlotte campus where the staff has an obvious infectious commitment to facilities excellence. The host committee delivered an exceptional conference, bringing many great programs and venues for the attendees and for our Business Partners. Every day of the conference was filled with opportunities to connect, engage with and learn from one another.
But the great prelude of activities the day before the conference were also terrific!
45 SRAPPA attendees prepared over 10,000 meals at
the Stop Hunger event.
The golf outing at Olde Sycamore Golf Club was
attended by 92 golfers.
Former Navy Seal, Shannon Rusch, gave a unique and inspiring presentation on the values of commitment and determination in the face of tremendous obstacles.
Former Navy Seal, Shannon Rusch
The SRAPPA Breakfast and Business Meeting began the last day of the conference as Glen Ward's humor and inspirational presentation gave us all a positive charge!
The conference was capped off on Saturday evening at the Banquet and Board Installation event. Outgoing SRAPPA President, Dan Wooten, recapped the region's successful year and recognized board members for their service to the board: Jay Williams, David Hatch, Tom Kantsios. Dan also presented Jack Colby as an Emeritus Member and Paul Weubold with the President's Award. The SRAPPA region also recognized those who received APPA awards this year:
2017 Meritorious Service Award: Jodie Sweat
2017 Pacesetter Awards: Rebecca Griffith and Robert Boyette
Outgoing SRAPPA President, Dan Wooten
Chris Kopach, APPA President, installed the new 2017 – 2018 SRAPPA Board:
THE 2017-2018 SRAPPA OFFICERS
President – David Smith, University of North Carolina – Charlotte
Immediate Past President – Dan Wooten, Tennessee State University
President-Elect – Tom Jones, Clemson University
First Vice President – Ray Mirizzi, Northern Kentucky University
Second Vice President – Mike Steger, Berkeley Preparatory
Treasurer – Becky Griffith, Embry-Riddle Aeronautical University
Vice President for Education, Al Hill, Tennessee State University
Vice President for Chapter Affairs – Andy Maddox, University of Alabama
Vice President for Communications – Brian Wilcox, University of Memphis
APPA Senior Representative – Jodie Sweat, Kennesaw State University
APPA Junior Representative – Dave Maharrey, Louisiana State University
K-12 Liaison – David Van Hook, Floyd County Schools
Business Partner Liaison – Brian Wright, Mitsubishi Electric America Co.
APPA Liaison – Steve Glazner
David Smith, incoming President, concluded the banquet by highlighting some of the episodes of the conference, thanking everyone who worked so hard on this great conference, and challenging his SRAPPA colleagues to do their part this coming year to engage in this great organization.
Incoming SRAPPA President, David Smith
2016
2016 Conference
750 facilities professionals throughout the United States, Canada, Mexico and the world convened July 12 – 14,  2016 in Nashville, TN, where we met to identify and discuss the most current and pressing challenges facing educational facilities, and determine the common path forward.
The 2016 APPA/SRAPPA/TNAPPA Annual Conference theme was "Partnering for Historical Success" and was the platform for discussion, information-share, networking, and much more. Best practices used around the world were shared from over 100 presenters, to include the profession's most recognized and talented educational facilities leaders.
The 2016 APPA/SRAPPA/TNAPPA Annual Conference capitalized on this historical & unique collaborative programming over the course of 3-days.
This great event was held in downtown Nashville, TN!  Morning meals were served in the Renaissance Nashville Hotel, while the Keynote Speech, plenary speeches, breakout sessions, and the Hall of Resources Exhibition were all held in the Music City Center.  A huge "Thank-You!" to our 128 Business Partners that attended!
The educational program consisted of 60 educational presentations and breakout sessions.  By combining the national, regional and state conferences, access to the best training opportunities were made available to facilities management professionals from every level of our institutions.  There were economies of scale and synergies produced, providing a distinct difference to the typical separate regional and state conference within the SRAPPA region.  This was truly a unique conference format and is being planned for future conferences at other regions.
The SRAPPA Breakfast and Governance Meeting concluded the week as the outgoing SRAPPA president, Dave Maharrey, recapped the region's successful year and recognized board members who received the SRAPPA President's Award for their service to the board: Wayne Goodwin, Gerald Grimes, and Kelly Ostergrant.  The SRAPPA region also recognized those who received APPA awards this year:
2016 Distinguished Leadership and Ethics Award: Jack Colby, North Carolina State University
2016 Meritorious Service Award: Daniel Young
2016 Pacesetter Award: Dan Wooten, Tennessee State University
2016 Unsung Hero Award: Ada Baldwin, North Carolina State University
2016 Sustainability Award: Elon University, Spelman College, and University of Virginia
2016 Effective and Innovative Practices Award: Emory University and University of Alabama
Dan Wooten, incoming President, concluded the SRAPPA Governance Meeting by highlighting some of the historic episodes of the conference. He also challenged his SRAPPA colleagues to do their part this coming year to expand membership, and to engage in this great organization and in the profession as a whole.
Dan Wooten — 2016/2017 SRAPPA President
2015
2015 Conference
2015 SRAPPA Conference
October 10-13, 2015
Just added! Click HERE to view all of the photos taken during the SRAPPA 2015 Conference!
Red, Hot, & Rouge, SRAPPA's 64th Annual Conference, convened from October 10‑13 in Baton Rouge, Louisiana. The educational program "Facility Professionals Advancing the Education Mission", gave over 180 participants representing 58 institutions along with 197 business partners the opportunity to attend 34 awesome educational sessions. Louisiana State University hosted SRAPPA 2015 and included an Exhibit Hall of 80 booths providing solutions to the issues facing our institutions.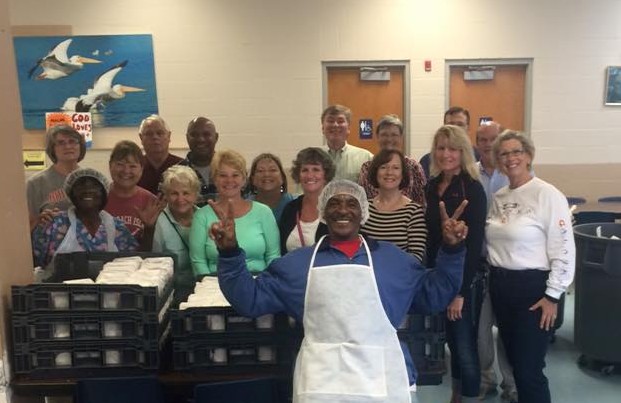 SRAPPA is all about family and giving back to our communities. SRAPPA volunteers made 1,000 sandwiches and packed 500 lunches at St. Vincent de Paul's Bags of Hope program to be distributed to local homeless people, and also made a $375 donation.
Pete Strazdas, APPA President, and Lander Medlin, APPA Executive Director, conducted the general session, emphasizing engagement amongst education institutions as well as sister organizations and stressing what each of us can do to make APPA even better.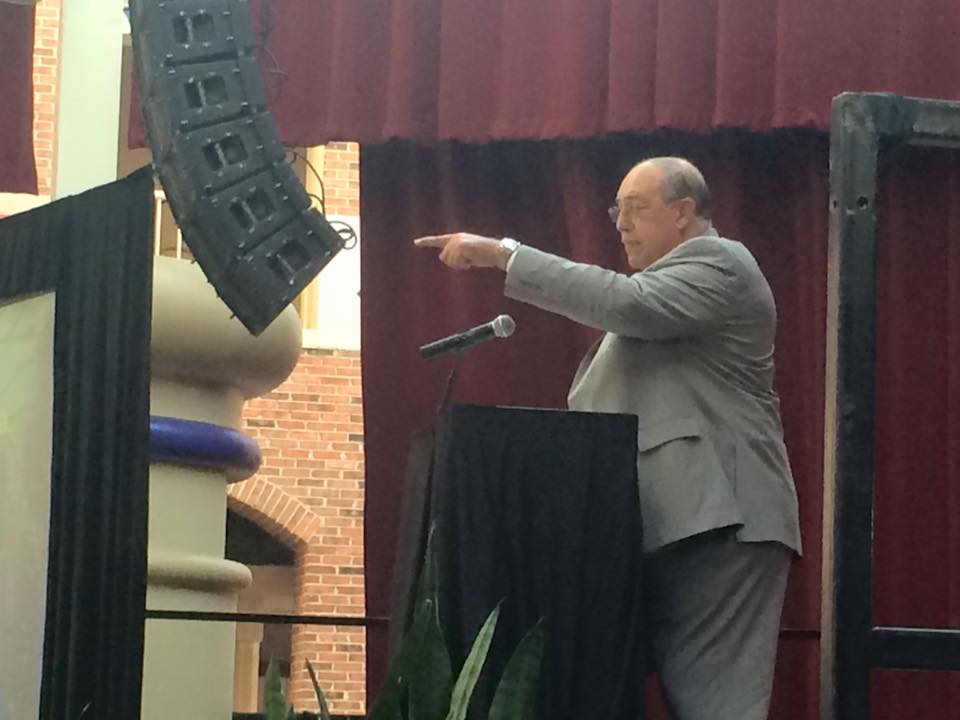 Keynote speaker Lt. General Russel L. Honoré, Task Force Katrina Commander, discussed operating in the New Normal and how to be effective one must "See First, Understand First, Act First".
The Monday Night 'Get Your Game On' Tailgate was a combination of fun, BBQ, dancing, and friendly competition of both cornhole and MashBall as teams threw against each other for supremacy. Plenary speaker Ira Blumenthal's presentation, "Change is Mandatory, Growth is Optional," illustrated how people and institutions need to change in order to remain relevant and be successful.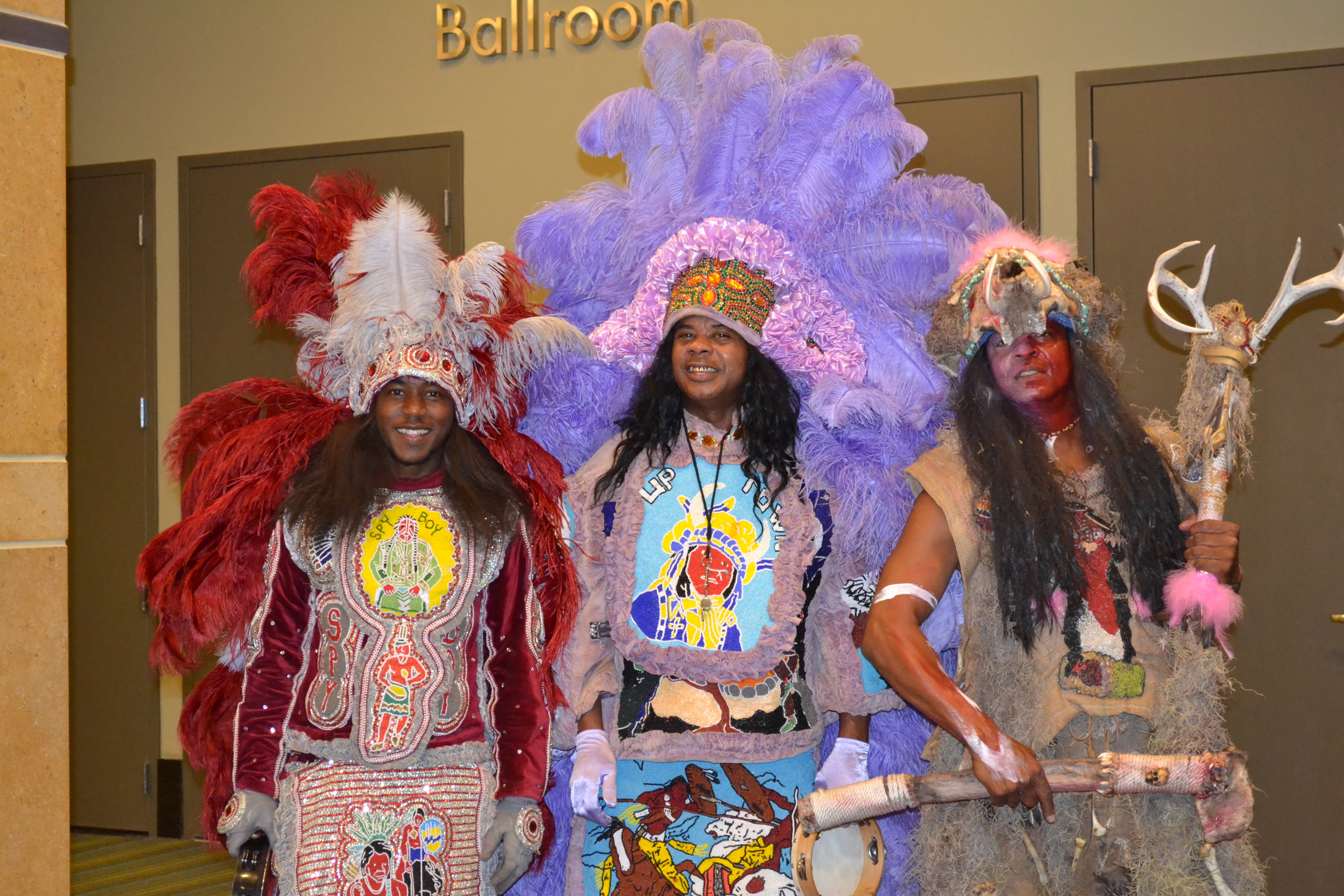 On the final night, conference goers danced from the 'Celebrating Red Hot Success' reception to the President's Banquet, led by a trumpeter and Mardi Gras Indians.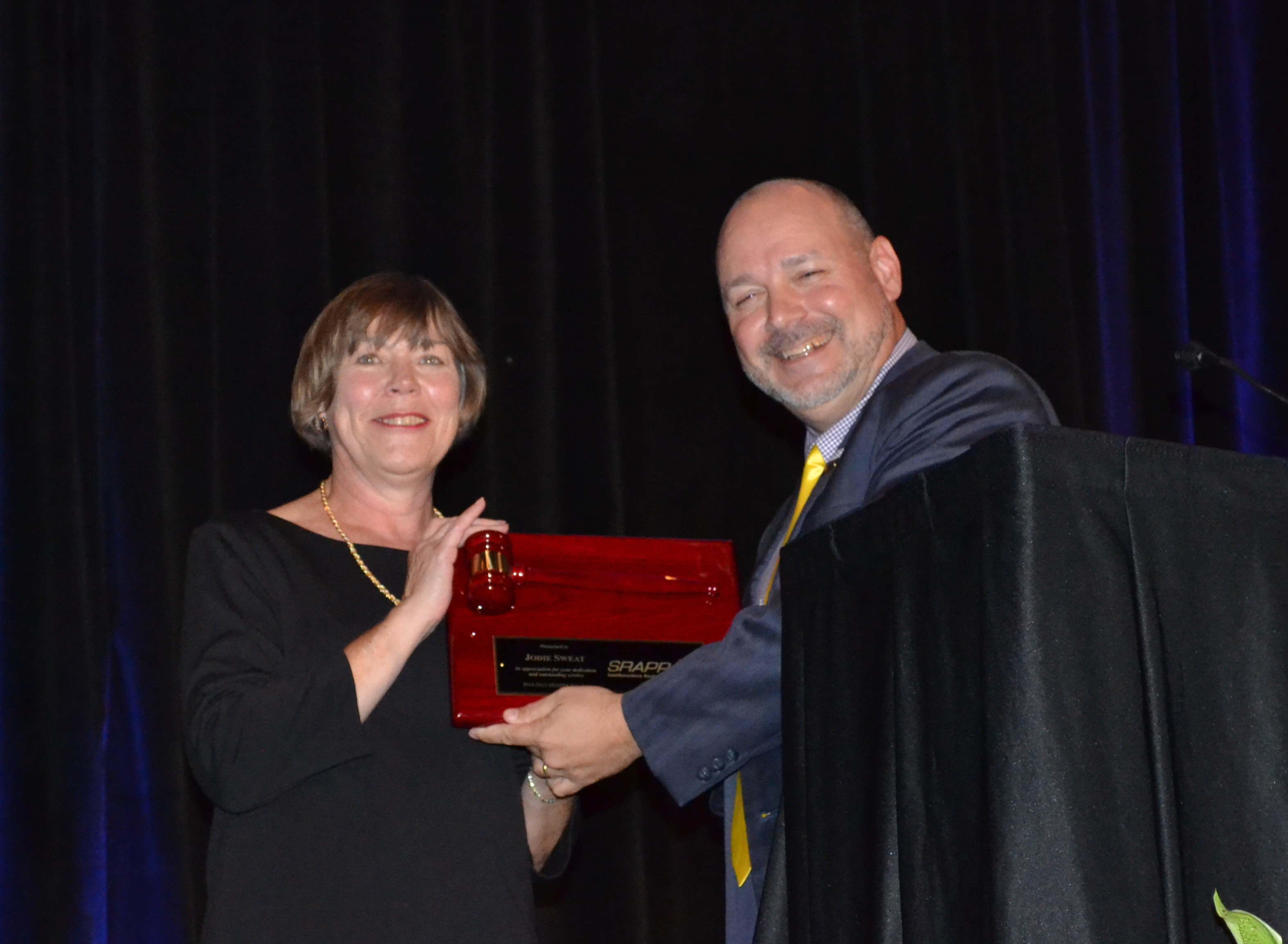 The President's Banquet provided a fitting end to an exciting conference as the outgoing president, Jodie Sweat, recapped the region's successful year and awarded the SRAPPA President's Awards to Andy Maddox and Mark Cutlip. She also recognized board members who received awards for their service to the board: Dan Young, Chris Ziolkowski and Andy Maddox. David Gray received an SRAPPA Emeritus Award and recognition was given to SRAPPA members who received APPA awards in July at the Annual APPA Conference in Chicago, IL.

Peter Strazdas, APPA President, installed the 2015-16 SRAPPA Board. The night and conference concluded with fabulous music and always more dancing.
2014
2014 Conference
The 63rd Annual SRAPPA Conference was hosted by Marshall University in Huntington, West Virginia, October 4-7, 2014. Mark Cutlip, SRAPPA First Vice President, put together an extremely hard working host committee who worked diligently to provide great educational programs, exhibit hall networking opportunities with all of our business partners as well as keynote and plenary speaker sessions and fun social events.
The conference started off on a high note with Glenn Smith, APPA Immediate Past President and John Bernhards APPA Associate Vice President, recapping some of the videos seen at APPA's 100th Anniversary Conference held in July, 2014 in San Diego. Glenn also shared some very interesting facts about the history of the all-women's college where he works, Bryn Mawr College in Pennsylvania. That evening we all enjoyed a wonderful dinner and then took a stroll down memory lane as we 'rocked out' to music from the 50's, 60's and 70's from Phil Dirt & the Dozers.
Everyone enjoyed listening to Bruce Wilkinson, our keynote speaker, as he shared stories about motivating people and inspiring excellence, service and accountability in the workplace. He had a great message and his first hand experiences helped inspire everyone. The Monday Night Football Dinner was a buzz of excitement as everyone ate dinner, danced to the DJ's music and played in the corn hole tournament in hopes of winning one of four beautiful custom made, military inspired themed corn hole boards. The Grande Theatre was transformed into an arena with everyone watching to see who would be the lucky winners. We might just have to have a corn hole tournament at every SRAPPA Conference now! It was a hit!
Our Plenary Speaker, Abby Rike spoke about her journey through an unbelievable tragedy and how she was able to forge ahead and find joy again in her life. She taught us that in order to get the most out of life, you have to challenge and push yourself every day. That is what living is all about. SRAPPA was honored to have Glenn Smith, APPA Immediate Past President installed the new slate of SRAPPA officers for 2014-2015. The conference concluded with a phenomenal 'live art' presentation by Joe Castillo, one of the top finalists on the hit summer show "America's Got Talent". Joe mesmerized us all as he created powerful, fluid illustrations in sand on a light table with an overhead video camera projected on a large screen.
2013
2013 Conference
Over 330 people representing over 60 colleges and universities and over 90 business partners made their way to Lake Lanier Islands, GA October 12 to 15 for SRAPPA 2013 inspired by the conference theme "Riding the Winds of Change". Besides enjoying North Georgia's beautiful fall weather, attendees were treated to a keynote address by Georgia State Secretary of State Brian P. Kemp who shared the trials facing state governments and how we can work together with states to benefit our organizations. A general session was led by APPA President Glen Smith and Executive Vice President Lander Medlin entitled "Why APPA?" Attendees were treated with an upbeat presentation that gave talking points on the benefits of APPA.
The conference was hosted by Kennesaw State University under the leadership of Jodie Sweat. The host committee provided 24 educational sessions and superb entertainment. The conference was kicked off with a golf outing to one of Lake Lanier's courses followed by a welcome reception held on the Lake Lanier beach. The days that followed were just as exciting with time well spent with the exhibitors, educational sessions, and a Monday night football watch party that included NFL players Kenny Irons (South Carolina, Auburn, Cincinnatti Bengals), Ken Irvin (Memphis, Buffalo Bills, Minnesota, New Orleans), Timothy Broady (Murray State, NFL Players Association) & Harvey Armstrong (Philadelphia Eagles, Indianapolis Colts). Everyone went home with fond memories with some lucky guests taking home footballs signed by the athletes.
The annual business meeting took place at the conference where SRAPPA's emeritus status was granted to John Malmrose, South Carolina, for his service to the region and APPA. The President's Dinner and Dance was the culminating event with incoming President Jay Williams highlighting the goals for the next year. SRAPPA was honored to have APPA President Glen Smith presiding over the installation of the 2013-14 officers.
Lee Richey, Jodie Sweat, Rhonda Jenkins and Wayne Goodwin
open the 2013 Exhibit Hall.
2012
2012 Conference
2012 Conference

Hosted by: Washington & Lee University and Virginia Military Institute
Lexington, VA
Over 300 participants, from 50 colleges, universities, and K-12 institutions; 36 exhibitors; 39 educational session presenters, and perspective business partners came to the historic town of Lexington, Virginia on October 13-16, 2012 for the SRAPPA '12 Conference co-hosted by the Virginia Military Institute and Washington and Lee University.
APPA attendance included Lander Medlin, APPA Executive Vice President; John Bernards, APPA Associate Vice President; Steve Glazner, APPA Staff Liaison; and Glenn Smith, APPA President-Elect.
Twenty-four educational sessions, from Grounds Maintenance to Green Preservation to 7 Years After Katrina—How Ready are We?, provided a comprehensive program for attendees. Glenn Smith taught us how to smile in his talk on "Pursuit of Happiness", Lander Medlin spoke on "Balancing Your Choices, Balancing Yourself" at the Plenary Session, and Michael Abrashoff, Keynote Speaker, delivered a thought provoking presentation entitled, "The Innovation Roadmap: Transforming Your Organization and Achieving Sustainable Growth" followed by a book signing.
James Whitakker, President, Facility Engineering Associates, P.C., Fairfax, Virginia led the EFP preparatory course for 10 attendees representing 7 colleges, universities, and public schools and 1 business partner.
Social Events included Golf Outing, Lexington Golf and Country Club; Sporting Clays, The Homestead Resort; Welcome Reception, George C. Marshall Museum, VMI; Social on Lawn, Canan Green, W&L; and the President's Banquet and Dance, Evans Hall, W&L. Spouse and guests were treated to a Natural Bridge tour and lunch at the VMI Museum; local historical tours with Lexington carriage rides; and lunch at Wade's Mill followed by a trip along the Blue Ridge Parkway.
The President's Banquet and Dance was the culminating event of the conference. Paul Wuebold, Outgoing President recognized John Malmrose, Medical University of South Carolina for his dedicated service. Friends and colleagues enjoyed a fun-filled evening socializing and dancing to sounds of TRADEMARK.
2011
2011 Conference
When the time came to plan the SRAPPA annual conference in a tough economic climate, Wayne Goodwin, SRAPPA President-Elect, knew exactly what to do. He charged his team with one simple mission—to plan an informative and engaging conference with a focus on energy awareness all while providing a "taste" of Mississippi's best culture and cuisine. With that, the team went to work, and on October 16-18, 2011, their mission was accomplished! The 60th Annual SRAPPA Conference, hosted by Jackson State University, was held in in Jackson, Mississippi with its theme "Energy Lights the Way" and more than 175 participants from over 100 colleges, universities, and businesses. The conference got off to a great start on Saturday with golf at Dancing Rabbit Golf Club in Philadelphia, MS while companions and other attendees enjoyed a historical tour of the city. The day ended with a Jazz Reception in the historic Old Capitol Inn. On Sunday, it was down to business as the Business Partner Expo began. Mayor Harvey Johnson thanked participants for selecting Jackson as the host city. Over 58 business partners shared their products, services, and industry knowledge.
The education sessions also kicked off on Sunday with three tracks: Sustainability, the Power of Our People, and Effective Facilities Management. Speakers from across the region were invited to provide practical, hands-on knowledge and empower members to transform the institutions they serve. With a productive first day behind them, attendees thoroughly enjoyed the "Catfish & Blues Revue" that evening. Local bluegrass and blues artists showcased Mississippi's rich musical heritage. On Monday, a general session on Climate Change was led by Entergy More breakout sessions followed before attendees returned to the Business Partner Expo. The day ended with Monday Night Football in the Walter Payton Complex on campus. Attendees were treated to a live performance by the university's marching band, the Sonic Boom of the South. Tuesday morning's General Session included a presentation of compelling national and regional facilities data and trends. The session was followed by the final breakout sessions.
During the President's Gala later that evening, outgoing president Dan Young bestowed several leadership awards and congratulated the Jackson State Team for a job well done. Incoming President, Paul Wuebold spoke of the strategic mission and exciting things to come in the year ahead. The night ended with more entertainment and fond farewells.
This is just a sample of pictures from the conference. To see all of the pictures, visit SRAPPA JSU on Facebook
2010
2010 Conference
The Grand Hotel in Point Clear, AL was the site of the 2010 SRAPPA conference hosted by the University of Alabama. Paul Wuebold and his team from UA treated conference attendees to a beautiful location with gorgeous sunsets over Mobile Bay. Southern hospitality and cuisine were prevelant throughout the 3 day event. SRAPPA thanks Paul and his team from the University of Alabama for a wonderful time as well as all of their generous sponsors who made the event possible.
2009
2009 Conference
SRAPPA 2009 Annual Conference Review
SRAPPA held its 2009 Annual Conference and Board Meeting on October 24 through 27, 2009 at the Hilton Beachside Hotel in Daytona Beach, Florida hosted by Embry-Riddle Aeronautical University. The event started with a Board Meeting on Friday, October 23rd and had its final event on Tuesday evening, October 27th. The 4 day conference was packed with events and door prizes where you were constantly reminded "You have to be present to win!" The weekend started with a shotgun start at the LGPA Champions Course on Saturday morning at 8:15 a.m. with 30 "would be" pros and a lot of mulligans available for a cost. The day proceeded with bright sunshine and a beautiful golf course. It turned out that the par 3 hole-in-one prize, a Camaro, was safe from this early morning group. Back at the hotel, an evening of tropical shirts, flip-flops and mumu's were in style as a Beach Party was held on the hotels veranda.
Sunday morning started with a welcome from Dr. Richard Heist , Executive Vice President and Chief Academic Officer of the Embry-Riddle Aeronautical University, Daytona Beach Campus. After a great breakfast the morning was filled with a Church Service and a First Timers meeting which were both well attended. The Business Partners were set up in the Exhibit Hall and the doors opened at 12:30 p.m. The Exhibit Hall stayed open through Monday at 1:00 p.m. During the time made available for the Business Partners contact opportunities, lunch was served and Give-A ways were presented to all attendees present. Lunch was served on both exhibit hall days, and prizes were presented to drawing winners present. "Race to Green" was the conference theme, and by the end of the Conference 20+ well attended educational sessions had been given with energy conservation and sustainability as the common thread.
Sunday evening was a NASCAR evening as the entire party was transported to the Daytona 500 Experience which is adjacent to the famous Daytona 500 Race Track. The Experience included an IMAX theatre, 8 NASCAR Simulators, many other electronic simulators, and a "time yourself" Pit Crew area. The "Time Yourself" feature required participants to change a tire using the same equipment that the NASCAR Pit Crew members use. Several exhausted amateurs gained a new appreciation of just how physically challenging being part of a real pit crew can be. The event clearly sparked or rekindled the NASCAR flame for many of those in attendance.
The Companions with our Conference Attendees were provided with a list of daily events that transported them to such venues as a tour of the Kennedy Space Center, the Light House and Nature Walk at Ponce Inlet, and a visit to St. Augustine to ride the trolley through the oldest city in the State of Florida.
Monday morning started with a breakfast and our Keynote Speaker "Mike Lipkin". Mike is the president of Environics/Lipkin, a motivational and sales empowerment practice research group. Mike's business is one of Canada's leading research houses giving talks on how social values are different but the same around the world. He has provided similar talks in 19 different countries. Mike is South African and loves life even if it disagrees with you once in a while. His latest book is "One Life, One Meeting" published in March 2008.
Monday morning and afternoon held more Educational Sessions and Monday evening was "on your own night"
Tuesday morning breakfast and Business Meeting was comprised of reports from key Board Members and a membership vote confirming the transfer of leadership. Polly Pinney, 2009 APPA President, Lander Medlin, APPA Executive VP and Brooks Baker, Past APPA President were in attendance.
Tuesday afternoon a campus tour was held at the Embry-Riddle Aeronautical University, Daytona Beach Campus where 8 Simulator Ride door prizes were cashed in. A total of 30+ attendees were bused to the ERAU campus and they enjoyed an hour + campus tour with refreshments before their return trip to the hotel. That evening a reception and banquet was held with the new 2010 slate of officers and representatives sworn in by Polly Pinney, APPA 2009 President. The evening was capped by Mike Harvey, Hypnotist, who demonstrated that you can place 20 + band aids on your face just through the power of suggestion.
We also had a visit from the "Bad Boys" of SRAPPA Brooks "The Breeze" Baker and Dan "Boss Hog" Simpler as they organized a bike run from the Northern parts of the region to arrive in Daytona Beach on the opening day of our Annual Conference. Many thanks to "The Breeze" and "Boss Hog" for their time and effort. The weather was perfect!
2008
2008 Conference
The Medical University of South Carolina, MUSC, hosted the 2008 SRAPPA conference in Charleston, South Carolina, October 25-28, 2008. Conference goals were for attendees to make new contacts and friends, learn something new, and have fun. The Conference Theme was "The Diverse Work Place." There were seven hours dedicated to interaction among attendees and exhibitors, and nine hours dedicated to educational sessions with three concurrent sessions during each of those nine hours. Social events included: A golf tournament at a course fronting the Charleston Harbor. A traditional low country meal at the American LaFrance Fire Museum, a wonderful display of fully restored historic fire engines and associated equipment. Campus tours of MUSC and Citadel, including a bagpipe performance at Citadel. A wonderful reception and dinner on the aircraft carrier USS Yorktown over-looking the Charleston Harbor was followed by music and dancing. The annual banquet was well attended, the host committee was recognized for a great job, officers for the new year were sworn in, the gavel was passed, Embry Riddle gave a preview of the 2009 conference to be held in Daytona Beach October 22- 28, and the conference grand prize, a 2008 Smart Car, was awarded by drawing to Dan Wolfe, University of Alabama. Special plenary speakers were Neal Petersen, an around-the-world-alone sailor born in Cape Town South Africa, who inspired us with this life story of overcoming adversity by engaging barriers as opportunities, and the Honorable Senator Glenn McConnell who gave an impressive and entertaining presentation about the history, recovery, and restoration of the Confederate Submarine H. L. Hunley. Special companion events included: Wares from selected representatives of the Charleston Market. A story teller who told stories in both Gulla and English just outside the exhibit hall. Two Shag dance lessons in preparation for the Tuesday night banquet. Breakfast with NY Times Best Selling Author, Mary Alice Monroe. Attendance at the keynote address. And a tour of historic Charleston with lunch at Magnolias, a top-notch Charleston restaurant. The conference started out great and got better as the week went on. At the banquet, the host committee began to relax, the Rick Strickland Band began playing beach music, and folks flooded the dance floor to try out their newly acquired Shagging skills. Servers began taking up tables while diehards continued to dance, and the band played on